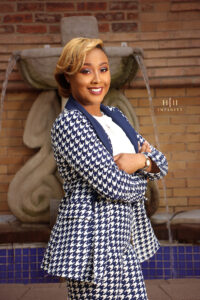 Trenity K. Dobbey has over 10 years of professional experience. Trenity currently works at the Chicago Children's Advocacy Center where she manages the city wide and surrounding area response unit to allegations of child sexual and physical abuse. She has always aspired to work with victims and families who have experienced trauma in providing support and guidance through times of difficulty. Trenity received her bachelor's degree in behavioral and social sciences, a master's degree in criminal justice as well as receiving her certificate of completion in life coaching.
Trenity has received awards to acknowledge her commitment to the children and families she serves, being an active alumni of her high school and community as well-being acknowledged as empowerment coach of the year. She is also the co-author of The Plan C: A comprehensive workbook which is a go-to guide for professional or aspiring coaches looking to grow their coaching business. Trenity has also traveled internationally to speak at various conferences and facilitate workshops for business and entrepreneurs.
Trenity has had many professional and personal experiences that have fueled her drive and determination to help individuals tap into their potential and go to the next level. She also utilizes her personal and professional experiences and educational background to work with individuals and groups by way of individualized plans, workshops, and public speaking to empower them to make better decisions and live better lives. Trenity plans to continue to use her time, talents and treasures to invest in those near and far and continue to impact change on a global level.